Many offer digital marketing services in Greece, but we here have smart digital marketing services for you, which you will not easily find on the internet and in our competition.
When we say smart digital marketing services we mean that they can bring you traffic to your website and recognition, but can also reduce advertising costs.
Digital marketing pricing in Greece
It is true that the cost of digital marketing services is constantly increasing as the promotion points of a website or an eshop on the internet also increase. Stable value with excellent results remains SEO (search engine optimization) and the cost is really high but corresponding to the value that your website is given by its ranking in the first 10 positions of the organic results on Google.
The more traffic your website gets for specific keywords, the higher it will rank in Google. To achieve this requires a significant financial investment and of course strategy, which only experienced digital marketers can offer you.
In this context, our company has created special methods of attracting users to your website, with the aim of increasing traffic.
On wordpress websites and woocommerce eshops at Bluemind Digital Marketing Services we develop the affiliate marketing strategy and this has a significant advantage in website traffic while reducing advertising costs.
Also, every advertising campaign in Google or Social Media aims to bring your website to a better ranking in Google and this is carried out in combination with SEO techniques and having carefully studied your competition.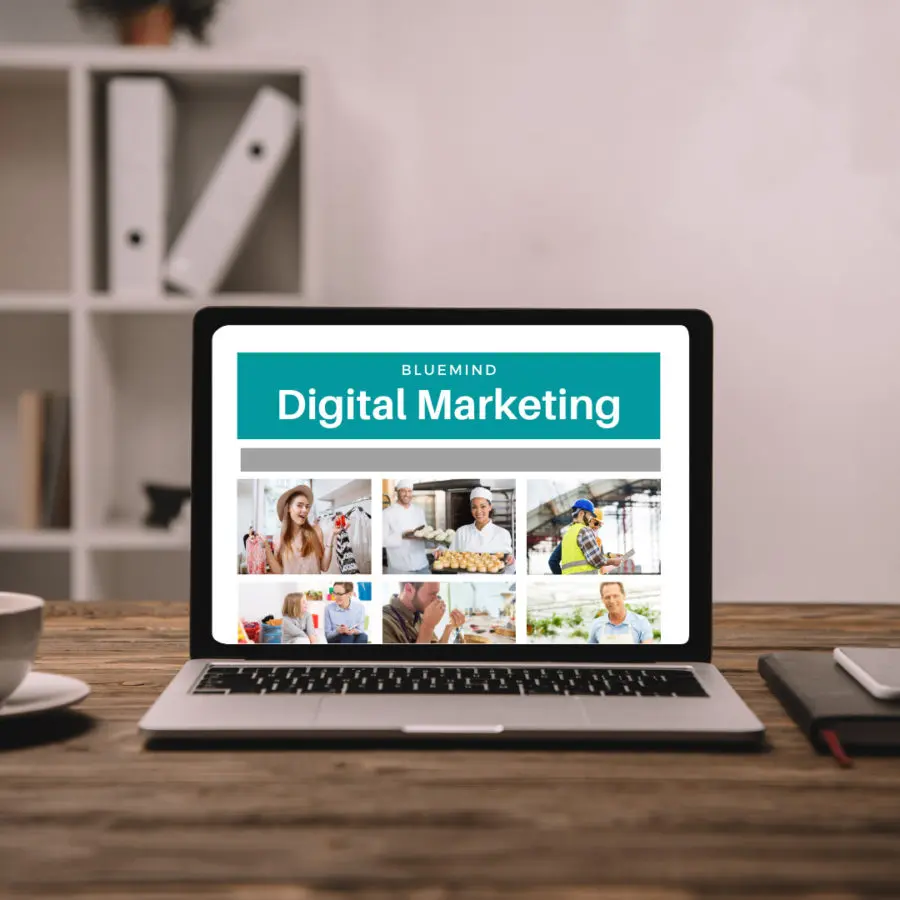 The "smart" digital marketing
The smart promotion of your website or your eshop in digital marketing services depends on knowing the searches that are made on Google about what you want to sell and the characteristics of the audience that is looking for you. Even if we're talking about social media, the pages your ad lands on play an important role in standing out from the competition.
The technocratic method in digital marketing services that says we simply "run" ads according to the suggestions and possibilities given to us by the promotion platforms (facabook - instgram, linkedin, tik - tok, google, etc.) does not work long lasting results. As long as you run advertising you will sell and as long as you do not advertise you will not have sales.
The reason for this is that companies do not take care to "build" a strong brand name alongside advertising. In order for the "building" brand name to happen, a strategy is required, which will define the goals and bring those results, which consolidate both the products and the company in the public's consciousness.
Digital marketing that stands out from the crowd requires you to identify your competitive advantage and communicate it to the audience interested in your products. Even if it is a dropshipping eshop, the customer service is a unique sales point.
The prevailing belief on the internet is that one website is imitating another. This puts businesses, who do not have the advertising funds of their major competitors, at a disadvantage. "Smart" digital marketing is the solution for small and medium-sized businesses.
Smart digital marketing services can get you ahead of your competitors!
Small and medium-sized enterprises with special e-commerce and digital marketing solutions can claim a significant market share from their competitors.
For example, just enabling the free abandoned cart function, which not all eshops have, could bring in additional sales from users who have not completed their orders.
Also, building a professional network of resellers, users who are dynamically active on social media, can bring many potential customers to your website.
Even partnering with other businesses that are active online with complementary products or services can skyrocket your sales.
Digital marketing services
As you can see, at Bluemind we think differently about what is called digital marketing services. We apply all the principles of internet marketing and take advantage of all the possibilities it offers us, but with our client we have defined a success goal from the beginning and we have many different scenarios for achieving it.
Our clients "build" brand names with every euro they invest in advertising, as the digital marketing services we provide are innovative and targeted. Our aim is to offer each of our customers what matches the DNA of their product and company.
If you are looking for partners for digital marketing services who think creatively and bring immediate results, contact us at +30 2108662975